Advertising & Marketing
---

Most brands now realise the impact of using rich media to promote messages, raise profile and support general business communications. Far better than expecting viewers to wade through pages of web text.
We work closely with brands and their agencies to help plan and include live video to create high impact campaigns to identified audiences, be they on PCs, mobile phones, tablets, or even large screens. The key to it all is careful planning and preparation, so please start involving us as soon as possible, so that we can help steer any technical issues and, based upon our vast experience, perhaps suggest a few ideas worthy of consideration.
Case Studies
---
The Pink Fiat 500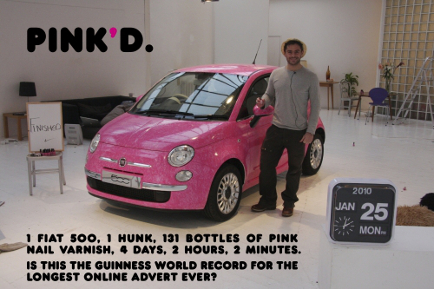 To mark the launch of the pink Fiat 500, Fiat wanted to film a standard car being completely repainted with pink nail varnish. We were asked to handle the video production and streaming for the continuous 4 days 2 hours and 2 minutes it took.
We set up 4 cameras at agreed angles to record the gradual painting of the car, and linked up our production and encoding unit. The Studio in south London had no suitable communication lines so we first had to install a temporary satellite dish to uplink the live streams from the site to a designated web site.
In close collaboration with the advertising agency, we co-ordinated the production using 4 static cameras positioned around the studio to capture day and night shots. The cameras were controlled by our vision mixer and we managed our primary and secondary encoding and monitoring facilities on site.
Video footage was also extracted during the campaign to use on vast outdoor projections, as was back up footage for other media campaigns.
Skill tags
Production of Video with our production unit
Management of Satellite link
Project management and liaison with agencies and client
Integration of live player into designated web site
4 day continuous live Flash stream via web
Provision of broadcast content for outdoor digital display
Skittles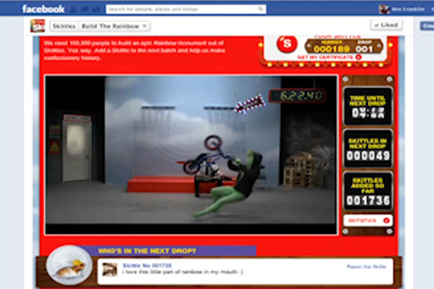 Our brief was to live stream a continuous and elaborate PR stunt over three days. The event celebrated the launch of a new Skittles rainbow as part of their brand enhancement campaign. The stream ran constantly 24 hours a day and was hosted on Facebook in order to allow viewer interaction. Viewers clicked on Facebook's " like" facility in order to trigger the phased release of coloured skittles to build a rainbow. 24hr streams involve an army of technicians working in shifts so that there is always someone ready to closely monitor encoding and streaming, and to respond to any potential issues which arise. Streaming was to a third party CDN in order to allow headroom for large influxes of concurrent connections.
Careful planning in close partnership with the superb production team at Spectrecom, meant that the campaign which we were brought into quite late, went flawlessly to the delight of the Agency and end client
Skill tags
Bandwidth planning using contended network
Large volume streaming capacity planning using third party CDN
SD encoding
Rota of constant encoding engineers
24/7 support
Helping deal with 100,000 skittles
Intel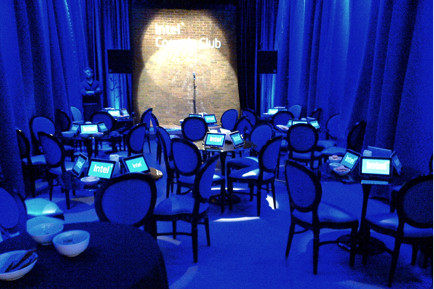 To assist awareness of the superb new Intel powered tablets, TSC were challenged to stream a mixture of live and pre-recorded content in a themed setting to 30 Intel Powered tablets.
Based in the White Space in London, which was superbly transformed into a comedy club by the team at agency Hill and Knowlton, two experiential comedy evenings enthralled and surprised audiences by the richness of talent as well as the superb video content streamed to these Intel powered Tablets
Skill tags
Streaming to 30 tablets @ Total 22.5TBps using Cisco enterprise grade managed wireless routers installed for the event
Monitoring wireless routers in a highly congested area of London with over 30 other routers in the local area swamping channels
Seamless mixing of 1080p live content and 1080i pre-recorded content
Video mixer deployed
OB encoding on site
Streaming to 30 tablets