10TH ANNIVERSARY
10th Jan 2018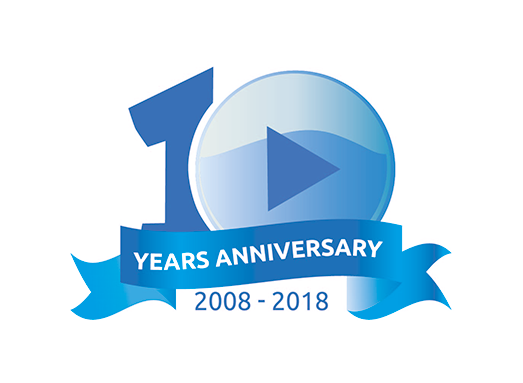 The Streaming Company https://thestreamingcompany.com celebrates its 10th year.
CEO Ben Kittow reflects on some seismic changes in both the IP broadcast space, as well as the Company as a whole.
"The landscape for streaming has undergone seismic change since we started. In 2008, the concept of streaming was somewhat alien, so to a large extent we were educators as few people, and to some extent that included us, grasped just how mainstream video streaming and OTT would become. We do not have to explain who we are and what we do now, but for many years we even got mistaken and asked what "The Screaming Company" did!
Even though the iPhone had been launched successfully in 2007, and we had all become used to messaging and emails on our keyboard phones (We all played with WAP, Palms and Blackberrys before moving onto other fruits and Androids!), few in the corporate world grasped at the time just how much we would come to rely on our mobile devices for functions beyond messaging, emails and browsing. Apps were clunky and horrendously expensive to build, and the platforms for video highly restricted relative to today's platforms driven by social media.
Encoding techniques and streaming protocols have seen massive change driven by an increasing range of ever more complex and powerful end user devices, browsers and platforms. The death of Flash presented a real challenge to those of us who specialise in live events and sports – we were convinced that the inbuilt latency when streaming to iOS devices had to be reduced and sure enough along with many other highs, we managed to crack that to an optimal 1 second latency as opposed to the factory setting of 30 seconds on iPhones and iPads. The Broadcast industry started adopting IP channel delivery somewhat tentatively, but in recent years have started more freely adopting managed, IP delivery of channel and events (as opposed to Satellite and other options) which our own network and signal relay techniques were built to deliver and presents an exciting area of growth.
From a company perspective, our technical team have driven our own platform (CDN) from a single, copper based PoP, to largely fibre backed multiple PoP infrastructure across continents with vastly enhanced connectivity to cope with modern rich media formats, stretching from Europe to our new Asia presence bought on-net in 2017. Growing as a company also means bringing in new staff and it is great to see the skills and interests of our new staff who rightly influence how we think and plan ahead in this exciting, ever changing industry.
Highlights are difficult to select given the amount of events we have done as well as the wonderful clients and people we have worked with over 10 years, but 3 which spring to mind are:
Seeing Tim Peak's inspiring and captivating broadcast from the space station to over a quarter of a million children who watched our live stream.
Turning up to do a school broadcast, only to learn that the guest speaker was slightly more high profile than we were advised which became evident when the Secret Service and UK Police started a lock down and sniffer dogs poured over our encoders and equipment (Nice to meet you Michelle)
Being proud of our ultra low latency sports channels which have consistently beaten the big CDN delivered competitive streams and being asked by one client – "Please can you add delay as it's ahead of our normal service and the satellite service"
Some things however have not changed, and I am deeply proud of the way that we continue to grow and invest and have been profitable since we started. We continually strive to offer really high levels of customer service backed by significant group experience. We manage the delivery of our live events as opposed to selling parts of the solution. This managed approach means we are not the cheapest, but quality and reliability are maintained leading to highly satisfied customers. We fiercely maintain our enviable record of successful live streaming by planning and managing each event or channel through the planning stage, launch and on to support and maintenance. This has resulted in phenomenal channel growth for our clients – some of which have been with us since we began or soon after."
For more information about The Streaming Company and its services, please visit https://thestreamingcompany.com
< Back