IBC CONFERENCE 2018: WILL WE SEE YOU THERE?
11th Sep 2018
Next week marks the start of the IBC 2018 conference in Amsterdam, and what an exciting event it is shaping up to be! IBC2018 offers a packed agenda, and this year's exhibition is no exception with no less than fifteen halls being set aside for more than 1700 exhibitors from the media, entertainment and technology sectors.
The conference kicks off on 13th September, the day before the exhibition opening, and will run until 17th September. The exhibition hall closes on 18th September at the RAI, Amsterdam. Register for your place here. Don't miss out.
What's on and fascinating this year?
The IBC Future Zone
The Future Zone is promising to offer attendees a glimpse into the future of the industry, with the latest ideas, concept tech and innovative solutions from around the world. The Future Zone will be housed in the exhibition hall and will draw a focus from the development of new technologies by showing the various stages of the development cycle.
What Caught My Eye
What Caught My Eye is a show favourite, and has been a long-standing attraction at IBC. The first 45-minute early session will be held on the 15th September and offers some inspiration with industry professionals invited to speak about their favourite show offerings. This years' focus will be about business transformation, chaired by Tom Marshall of Captive North. Marcos Gonzalez-Flower of Atos will speak from 8:15am to 9:0am.
Social media will provide the focus for Sunday's session, and the final What Caught My Eye will feature Innovation.
The IBC Partnership Pavilion
IBC provide an opportunity for attendees to engage with representatives of IBC's owners and learn about the latest business initiatives. This is a fantastic, not-to-be-missed chance for those interested in content creation, delivery and management.
The IBC Partnership initiative offers video streaming and other industry participants to find out more about how they can get involved with IBC.
That's not all! With the HBS Broadcast Academy, MediaMatters Speed Dating event, IBC owner and association sessions, IBC2018 promises to keep attendees busy, and that's before we even get to the conference or IBC industry awards. With more than 1700 delegates expected, and 400 speakers, we are looking forward to lively debate and some fresh ideas.
Register now for IBC2018, and look out for The Streaming Company. We will be there and look forward to meeting you and discussing the industry – its latest innovations and tried and tested best practices, current and future issues and challenges and much more. See you there!
Contact The Streaming Company today to discuss your live video, low latency needs.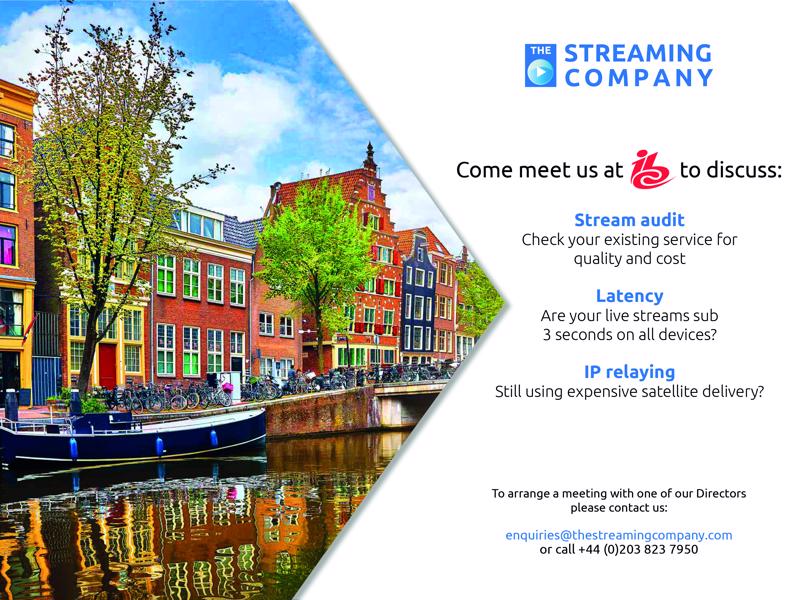 < Back