E-learning & Training
---
E-learning is a really effective mode of learning – as a standalone, or in support of other delivery mechanisms such as face to face and even support materials such as good old fashioned books. TSC has delivered over 2,000 hours of training on line a variety of corporates - mostly connected with professional development or accreditation.
Whether e-learning appeals due to its cost efficiency, or ticks the box because of its green credentials, we are here based upon huge experience to help you plan and execute your e-learning plans and reach your target audience on the most suitable device for learning.
Case Studies
---
AMEE live convention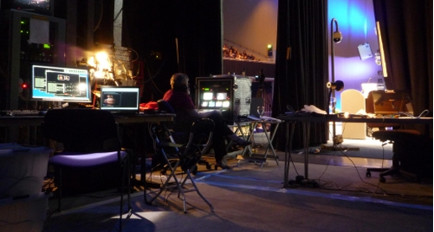 AMEE invites its members to an annual convention in differing locations. Having never broadcast the convention live before, TSC were asked to steer the digital broadcast to worldwide members who could not attend the live convention.
TSC first worked with AMEE's web team to ensure correct embedding of TSC's media player. We then took our mobile encoding unit along to the convention centre and set up and monitored live streams of all sessions during the 3 days of the convention, and also provided archive copies of the sessions for later VoD viewing.
Full monitoring and reporting of the live streams was provided by our technical team.
Skills Tags
Project management of the embedding of TSC's media player on the client's web site
Sent engineers with our mobile encoding unit to the event
Tested and evaluated on site broadband connectivity
Managed all live steams
Created archive clips for later viewing
The result

A faultless service of streams over the 3 days and a happy client.
Project LexisNexis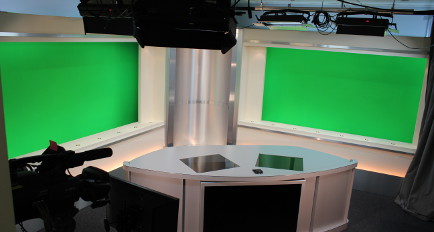 Our brief was all encompassing:
Build a studio in the HQ building
Carry out all broadcasts and recordings in the studio
Stream and monitor all broadcasts delivered by internet to corporates throughout the UK
The studio has been a massive success for LexisNexis who as a result of driving down their costs by bringing their webinars in house, along with the improved standards of all webinars, continue to expand the range and number of webinars being carried out and aimed at Lawyers and Accountants qualifying for CPD points as part of their professional training.
Skill Tags
Studio design and build
Production staff with back up for all live events
Encoding and streaming platform and architecture with synchronised slides
Suitable broadband lines with constant monitoring service
Technical support to end clients (normally corporate firewall issues)
The results

A studio which is now running at close to capacity due to the range of in-house and third party clients wishing to take advantage of the superb webcasting facilities in the heart of London's legal heartland.
Slaughter and May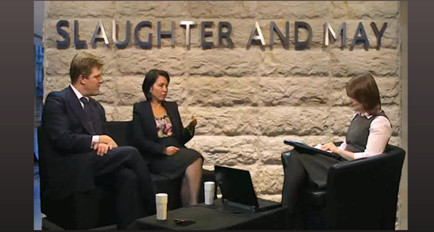 TSC streamed a very successful Web directed at post graduates interested in joining this prestigious law firm. Representatives of Slaughter and May gave an insightful briefing to help those seeking to embark on a legal career and to join law firms as trainee lawyers.
Using a virtual backdrop mimicking Slaughter's own offices, the live broadcast was based in a studio managed by TSC production staff who looked after the expert speakers and co-ordinated the broadcast session from inception to the broadcast itself.
The webcast was highly successful based upon viewership, and was a powerful and efficient way of getting the message across to viewers watching on PCs, macs and mobile devices
Skill Tags
Managed live streaming
Studio production
PC and mobile streams
Reporting and monitoring